Today a person can choose from a wide range of jobs but in ancient times as the technology wasn't much advanced, only few jobs were available and people were recruited to these few jobs solely on the basis of their talent. We all are familiar with most of the ancient jobs related with military, religion, farming, politics, and arts but apart from these white collar jobs, certain bizarre and weird jobs also existed during the classical period of the Greeks and the Romans. People who were not talented enough to qualify for these white collar jobs were forced to do certain weird and repulsive jobs. Unlike today, these unlucky people were not offered with a choice, the rule was simple, either accept the weird job or die of starvation. Do you hate your current job? I can't help you to get a new job of your choice but this article will definitely change your attitude towards your current job. After reading about these weird ancient jobs, you will not only fall in love with your current job but you will also thank your stars that you were not born when these jobs existed.
1. Armpit Plucker
The title says it all but still I feel obliged to explain this weird job in detail. What do you hate most about your body? We hate unwanted hair on weird places in our body, especially women. The ancient people also had this same thinking about hairs but the problem was that they didn't had razors or any other device to help them to get rid of unwanted hair. We know that the ancient Romans were athletic people and they used to display their well toned naked bodies in public. During the 2nd AD in Rome, the ancient Romans realised the hard truth that their hairs on the armpits is a hindrance not only to their public display of beauty but the unpleasant odours emitted from these hairs can also cause embarrassment at the public baths. This hairy problem gave birth to a new job, the job of a armpit plucker. The armpit pluckers were not qualified in any manner and they were mostly found in the bath houses. As, the razors were not available, the pluckers used sickle-shaped hot iron and tweezers to remove unwanted hairs from their clients. During this period, the armpit pluckers were greatly in demand and majority of their clients were rich and popular people from the Roman society.
2. Groom Of The Stool
This is literally the most weird and repulsive ancient job. Have you ever imagined about a full-time job where a person has to wipe another person's bum after defecation? Definitely unimaginable but this job was practised during the early years of
Henry VIII's
reign. You will be surprised to know that this job was regarded as a symbol of higher social status. Why? Simply because the Grooms of the stool had the great and rare privilege of wiping the king's bum. The king's minions were often recruited as bum-wipers. Why? Because the recruitment of minions as Grooms of the stool ensured that the king doesn't have to bend to get his bum wiped. Obviously, the king bending in front of a servant is not only humiliating but also inconceivable. I think the social status associated with this job must have provoked many Grooms of the stool to boast about their job skills in public gatherings.


3. Funeral Clown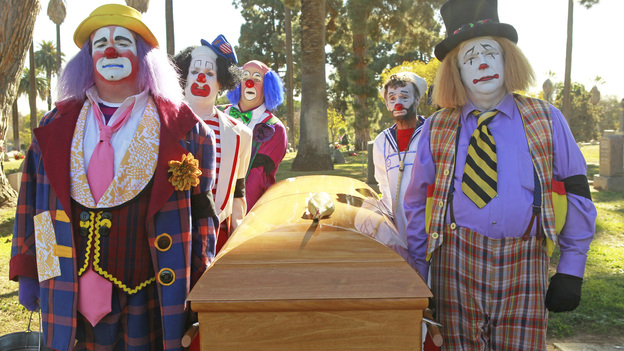 This weird job was also practised in the ancient Rome. How do you describe a present day funeral scene? We see friends and relatives of the deceased in appropriate funeral dresses and mourning over the dead. This is a simple present day funeral atmosphere but the ancient Romans didn't believed in this type of funeral scene. As a matter of fact, instead of mourning they enjoyed the funeral procession. How? To do this weird job they used to employ a funeral clown. The job requirement of a funeral clown was simple, he has to entertain the grieving relatives. How? A funeral clown was paid to dress like the deceased and a mask of the dead person was put on his face. After looking like the deceased, the next job of a funeral clown was to mimic the dead and to run around the corpse with other clowns. Why did the Romans indulged in this weird practise? Because they believed that this mocking the dead job will appease the spirit of the dead and will bring happiness and joy to the living. This job definitely helped ancient Romans to forget who had died and the funeral clown were well paid for their services.
4. Orgy Planner
This job is weird but I feel that Orgy planners were the luckiest guys on earth. Why? Let me tell you. Today, what you call a person who undertakes the job to organise a party, wedding or any other grand event. Yes, we call them a wedding planner or an event planner. I think most of you are familiar with the term "orgy". If not, then orgy means a wild party, especially one involving excessive drinking and unrestrained sexual activity. In ancient times, orgies were considered as the most common festivities. As the definition of an orgy signifies that it is not an simple activity but a lot of complex activities are involved. To make this complex event a little bit simpler, the ancient people recruited orgy planners to take care of orgy events. The job of an orgy planner was to take care of food, drinks, music and to find healthy and beautiful women for the event. During ancient times, orgies were sponsored by rich people and most often orgy planners were rewarded with any one or all of the above mentioned four things. Gaius Petronius Arbiter who wrote the satirical novel, "Satyricon", is regarded as the most popular orgy planner.
5. Vestal Virgin
Vestal Virgins were the priestesses in the ancient Roman religion. So, you will be thinking why did I added a religious job in this section? Because the severity of punishment associated with this job was really weird and brutal. In the ancient Rome, "Vesta" was regarded as the goddess of the hearth and to become a priestess of Vesta, a girl had to follow certain rules. The first rule for this religious job was that a girl should accept priesthood before she attains puberty. The second rule was a bit harsher, after becoming a Vestal Virgin, the girl should sworn to celibacy for a period of 30 years. The job requirement was simple, the Vestal Virgins had to keep the sacred flame in the temple of Vesta burning all the time. The burning flame was considered as a symbol of virginity. The Vestal Virgins enjoyed many privileges. Allowing the sacred flame of Vesta to die out due to laziness on the part of a Vestal Virgin was considered a crime and that Vestal Virgin was punished severely. Laziness was punished by whipping the Vestal Virgin till she bled. If a Vestal Virgin was caught having a sexual relationship with anyone during her 30 years then she was burnt alive. The rules of this job were simple, you can't sleep and you can't have sex for 30 years.